Laser Treatment
The Townshend Skin Clinic is now closed.
Dr Askari Townshend has opened a new clinic in the City of London - ASKINOLOGY - offering the same range of treatments including laser hair removal, Botox®, dermal fillers and Dr Zein Obagi's new range, ZO Skin Health.
Call 0207 0432233 to speak to an expert to help you make the change! .
Read more at www.askinology.com
Closest underground stations are Bank and Liverpool St.
To keep up with the latest news on the new clinic, you can follow us on twitter @ASKINOLOGY, Facebook and Instagram.
Our skin reveals a lot about us. As we grow, the rigour of time and the effects of sun damage and smoking can encourage broken capillaries and spider veins on the face. Other factors can lead to small spider veins on the legs.
How it works
Laser light contains a specific wavelength of light which passes through the skin to target the problem (e.g. blood). The target is denatured and then cleared away by the body over the following days and weeks.

Lasers can be used for treating:
Age and sun spots.
Rosacea
Spider veins, thread veins, broken veins & telangiectasia

Leg veins

Hair removal
FAQ's
Does it hurt?
Laser treatment can be uncomfortable but depends on the type of problem, the individual and the part of the body being treated. It should not be overtly painful. It is often described as a very brief stinging sensation.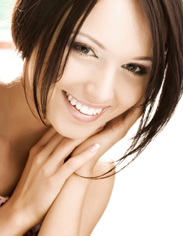 How many treatments will I need?
This depends on the type of problem and your skin type. In some cases, excellent results can be seen after just one or two treatments. More complex problems will require a course. An indication of how many treatments you will require will be given at your consultation.
Is it safe?
Just like after laser treatments, your skin can look flushed but this is short lived. Any problems are minimised by having a test patch first.
The Townshend Skin Clinic is now closed.
Dr Askari Townshend is opening a new clinic - ASKINOLOGY - in London on 18th May 2015.
To keep up with news on the new venture, you can follow us on twitter @ASKINOLOGY.
Testimonials
"Above knee skirts were always a no no for me because of horrible spider veins on my legs. I had a great result after just two sessions and now I can wear what I like"
ET, Northampton
"I thought that my facial redness was just bad luck or inherited.... Dr Townshend diagnosed it as Rosacea with the help of his skin analysis system. I've had 3 IPL treatments and the improvement is huge. My friends have all noticed the difference too. I don't have to hide at the back for group photos anymore!"
FY, Market Harborough
"After years of sunbathing, my face was covered with sun spots and freckles. I didn't even know there was a treatment for them. If I'd known how quick and easy it was, I would have done it years ago"
LS, Corby