Laser hair removal
The Townshend Skin Clinic is now closed.
Dr Askari Townshend has opened a new clinic in the City of London - ASKINOLOGY - offering the same range of treatments including laser hair removal, Botox®, dermal fillers and Dr Zein Obagi's new range, ZO Skin Health.
Call 0207 0432233 to speak to an expert to help you make the change! .
Read more at www.askinology.com
Closest underground stations are Bank and Liverpool St.
To keep up with the latest news on the new clinic, you can follow us on twitter @ASKINOLOGY, Facebook and Instagram.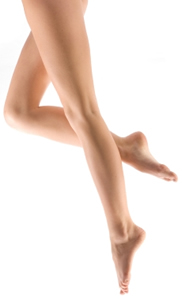 Unwanted excess hair needn't be a problem with our easy laser hair removal treatments suitable for both women and men.
Imagine never having to shave or wax again but instead having a long-term solution to achieve silky smooth skin.

Laser hair removal is suitable for almost all parts of the face and body. With our top of the range Lumenis Lightsheer Diode Laser, we can treat skin of all colours more quickly and safely than electrolysis.
How it works
Laser light carries energy which is absorbed by pigment (melanin) contained within the hair. This energy is converted to heat destroying the hair and the cells that make it grow. Therefore, the thicker and darker hair is, the easier it is to treat.
Hair growth cycle
Hair does not grow constantly but in cycles of active growth and rest. It is very difficult for the laser to affect the future growth of hair in the resting phase which accounts for upto 50% of hairs at any one time. This is the reason why a course of treatments is required for satisfactory results.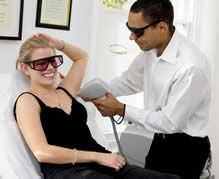 FAQ's
Does it hurt?
Laser hair removal can be uncomfortable but should not be overtly painful. It will depend on the individual and the part of the body being treated.
Does my hair need to be long for treatment?
No. We ask that hair is shaved the day of treatment so that there is as little as possible on the surface of the skin. However, it is useful to have some hair growth at the initial consultation so that we can make an assessment of the type of hair to be treated.
Can I have my treatment straight away?
Even if you have had laser hair removal before, a test patch is required before commencing treatment. A small discrete area is treated to ensure that full treatment can proceed without any unwanted effects.
If you have an active tan, you should wait until it subsides before having treatment.
How many treatments will I need?
This will depend on the nature of the hair and your skin. Most people do not need more than 6 treatments. Courses of 6 can be purchased but if more are required, further single treatments are offered at the discounted rate.
Are there side effects?
After a treatment your skin can look flushed or mildly swollen but this is very short lived. Very rarely there can be changes to skin pigment but this is minimised by having a test patch first. Laser treatments have been performed for many years and there is no evidence whatsoever that they cause skin disorders or cancer.
Can I remove my hair between treatments?
You can shave between treatments but should not pluck, wax or thread the hair as the base of the hair needs to be intact.
Testimonials
"I was worried that my treatment was going to hurt but it was actually far less painful than waxing"
ST, Nottingham
"I'd been bleaching my top lip for years - I thought I couldn't afford to get rid of my hair properly.....turns out each treatment was less than half the price of having my hair cut!"
HJ, Daventry
"I always got a shaving rash each time I shaved and the hair grew back thicker. Not any more."
BM, Northampton
Pseudofolliculitis Barbae (shaving rash)
Psuedofolliculitis barbae is a condition that affects up to 60% of black men and others with curly hair. It occurs as a result of 'ingrowing' hairs in the beard area. This is when hair grows back on itself and into the skin causing inflammation. The result is a small bump or spot which can ultimately leave a scar or keloid scar in those with dark skins. Shaving makes this problem worse as the ends of the hair are left with a sharp edge, making it easier for them to spear the skin. The bumps interfere with shaving and often get cut which makes the likelihood of scarring worse.

Removing the hair prevents further bumps as the cause of the problem is eliminated. Unfortunately, any scarring that has already occurred will not be corrected with laser hair removal although we can offer other treatments to help with this. The Lumenis Lightsheer hair removal laser has been FDA approved for the treatment of psuedofolliculitis barbae as it can safely treat dark skins unlike many other systems on the market.

Click here to read more about laser hair removal at the top of this page