Rosacea
The Townshend Skin Clinic is now closed.
Dr Askari Townshend has opened a new clinic in the City of London - ASKINOLOGY - offering the same range of treatments including laser hair removal, Botox®, dermal fillers and Dr Zein Obagi's new range, ZO Skin Health.
Call 0207 0432233 to speak to an expert to help you make the change! .
Read more at www.askinology.com
Closest underground stations are Bank and Liverpool St.
To keep up with the latest news on the new clinic, you can follow us on twitter @ASKINOLOGY, Facebook and Instagram.
Background
Rosacea is a common skin problem that affects 10% of the population. Certain groups are more likely to suffer: women, Caucasians and those over the age of 30.
Symptoms can include:
Facial redness
Easy flushing of the skin
Broken veins
Thickened skin
The problem lies with small blood vessels in the face which become over reactive to stimuli such as heat, emotion, alcohol and caffeine. The result is facial redness and flushing which is often embarrassing and unwelcome. Rosacea cannot be cured permanently but certainly can be controlled and much improved.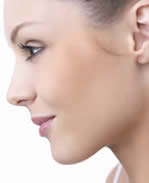 Laser light of a specific wavelength passes through the skin to target the problem (i.e. blood). The target is denatured and then cleared away by the body over the following days and weeks. Repeated treatments are requred a month apart for best results.
FAQ's
Does it hurt?
Laser treatment can be uncomfortable but depends on the type of problem, the individual and the part of the body being treated. It is often likened to the snap of an elastic band.
How will I look after treatment?
You may look flushed after your treatment but this usually passes very quickly. By the time you leave the clinic you should look very similar to how you came in and be able to carry on with your day as normal.
How many treatments will I need?
This depends on the type and severity of your rosacea. On average, excellent results will be achieved in 3-4 treatments.
Testimonials
"I used to always dread photographs, especially on a night out or a wedding because I was always the one with a red face, even if I wasn't drinking. If I'd known I could have got this sorted out so easily, I would've done it ages ago. It's my daughter's wedding this summer and this time I'll be looking forward to the photos!"
BR, Northampton
"I thought that my facial redness was just bad luck.... Dr Townshend diagnosed it as rosacea with the help of his skin analysis system. I've had 3 treatments and the improvement is huge. The before and after skin analysis pictures say it all. Now I can stop trying to hide beneath layers of makeup when I go out. "
FY, Market Harborough